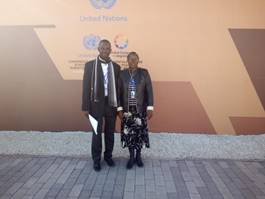 Central Africa OP Lutete (From Kinshasa, DRC) and Sister Donatus ( From Nairobi, Kenya)
Indeed, The Adoption of this historic achievement (The Global Compact for Migration Safe, Orderly and regular on the date of 10 December 2018, at Marrakech, Morocco) represents the comprehensive framework for multilateral cooperation on International Migration Issues. It has real potential to affect positively Lives of millions Peoples Human Beings who move in to search for a dignity life and security for them and their families.
We would like to take this opportunity to commend Member States to commit to its adoption, because that should not be an occasion of division, but the Unity in order to overcome all together this challenge of International Migration, and also because unless the participation of Member States, that will not meet its potentiality.
We thank the United Nations for offering this strong and good platform, the Government of Morocco and All Member States, All Civil Societies and NGOs who actively participated to this adoption sine 2 years of negotiations and All International Organizations and Private Sectors
Then All Civil Society Organizations and NGOs working on Human Rights in General and especially on Migrant Rights and which are able to get involved and help on the implementation of this agreement are welcome and have,,, It was a long work of negotiations since two years this process has began .now baby is there and request the attention of all of us in order to help most of our Friends, Colleagues, families Migrants, taking advantage of this useful documents which is just in my point of view an additional of some of international Instrument as the Universal Declaration of Human Rights which totalized 70 Years of its adoption…In another context I think as we are all frequent travellers we sometimes used to moving from our original countries and go to work for a couple of time in others countries, we are all concerned by this document adopted.